I had to serve as sound board operator for a funeral at church this morning. A lovely lady of 84 passed on in her sleep Sunday morning. Grace had been married to Arnie for over 65 years! Can you imagine. Well, the church was packed with family and friends and Grace will be missed. She lived her life with grace and took very good care of her family. I also took over a cake as it was going to be a large luncheon after the service.


An interesting side note is that there were a LOT of hats at this service. Some very fancy with netting and lace and one very plain floppy denim one. Don't see a lot of hats in church anymore. Maybe they will come back? That could be fun-just a thought...
Have been talking a bit with Shirley VH about classes for the next session of our local Craft Center. I thought maybe a felted bag. This little bag uses one skein of Noro-you could make it bigger if you liked but a one skein bag is nice:
Another thought is this
Felted Tea Cosy
by Kristin Nicholas. Wonderful designer, with a lovely
blog
. This combines embroidery which has enjoyed some interest in the past couple of sessions at Craft Center. Also embroidery on wool is always my favorite!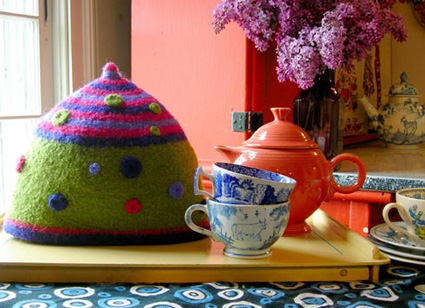 Fingerless gloves or mitts were very popular last winter...

http://www.interweave.com/needle/projects/cuffs.pdf

I have more fingerless mitt patterns too.
Shirley suggested this Mobeius
cowl. The sample is knit with
cashmere-always a pleasure!
Well we are surely looking forward to much interesting crafting this fall at Craft Center. Now to choose which of these really nice things to have a class about!
Hey, talk to you later-why don't you talk to me now?