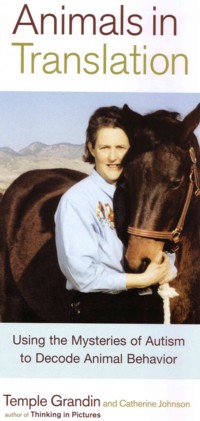 Just started reading this book, Animals in Translation by
Temple Grandin
. I was talking about having seen something on PBS about her to my Dear Friend Melanie and Melanie went right out and got this book for me! Melanie's middle son has Asperger's Syndrome as does Ms. Grandin.
Asperger syndrome, a mild, or 'high functioning' form of autism and part of the autism spectrum is absolutely fascinating and the way this woman has managed to function at a very high level in spite of this disability is well worth reading about.
Besides being autistic, Temple Grandin earned her Ph.D. in animal science from the University of Illinois; went on to become an associate professor at Colorado State University; and wrote two books on autism, including the seminal Thinking in Pictures. When Dustin Hoffman went to research his role in Rain Man, Temple was the person he contacted.
One of the most celebrated and effective animal advocates on the planet, Grandin revolutionized animal movement systems and spearheaded reform of the quality of life and humaneness of death for the cows, pigs, and chickens that Americans eat. Through Grandin Livestock Systems, she works with the country's fast food purveyors-McDonald's, Kentucky Fried Chicken, Wendys, and Burger King to monitor the conditions of animal facilities worldwide.
Temple Grandin is a towering figure for our times. She has devoted the last 30 years to studying animals and making their lives better, has been profiled everywhere everywhere from 48 Hours to The New York Times, is a sought-after speaker on autism and animal rights, and is considered one of the world's leading academic theoreticians in her field.
I am also knitting a very simple pair of socks with that sock yarn with aloe in it- I think it is that Austermann Step? Correct me if I am wrong...But a very simple sock as I tried it with a pattern and you couldn't even see the pattern. Why work that hard when it looks very nice without -simple stockinette looks nice. I have been finding that hand knit socks feel the nicest on my feet. Apparently one of the side effects of Chemo is numbness and tingling on the bottoms of one's feet and at the tips of your fingers. I am not having any problem with my hands but my feet always feel like they are falling asleep, so the hand knit socks really feel the best. This is really nice yarn to knit with too-feels really nice in your hand.
Well I will write again soon,
Lynda
Write a wise saying and your name will live forever.
Anonymous