Oh my gosh, did that foot mousse ever turn out nice! It is real light cuz I really blended it a lot and it is really minty and refreshing. I just love it! I hope to get some over to Loose Ends and a sample to try so that you ladies can try it out.
I am really pleased and hope you will like it too!
Did you folks see Sandy Jones' email about here broken arm and needing help at the Sheep and Wool Festival in Jefferson? I hope I can help her out but don't know if I can get away on Thursday as I will be gone Friday and Saturday to the Festival already. I think that Patrick can help her on Sunday as he will already be there to help Susan but he is in class on Thursday for at least part of the day. I will know more later but I sure hope to be able to help Sandy!
I finished about 4 bobbins of yarn this evening. One of the yarns is from corriedale and mohair in a warm, rusty orange that I bought from Carol Wagner's Hidden Valley Farm & Woolen Mill at Susan's Felting Symposium. It is really pretty and should knit up into something nice.
http://www.hiddenvalleyfarmwoolenmill.com/
The other stuff was a bobbin of alpaca I bought from Susan's Fiber Shop at the Great Midwest Alpaca Festival in April, in a natural grey color. Very soft and quite nice to spin!
http://susansfibershop.com/index.htm
Susan is having a big sale on yarn for the Labor Day Weekend. 25% off all yarns!! I am sure I will find tons of stuff that I absolutely "NEED".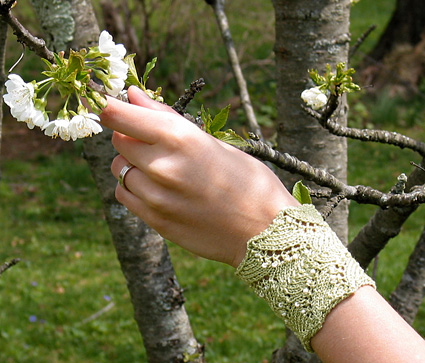 Hey these are pretty aren't' they?? I might make these. I kind of figured that lace knitting would be the next thing for me...
http://knitty.com/ISSUEsummer06/PATTperdita.html
Well, another day gone! Talk to you tomorrow, God willing and the crick don't rise...
Lynda